[GR.- ENG] Το 8ο Διεθνές Φεστιβάλ Βίντεο Ποίησης διοργανώθηκε στις 13-14 Δεκεμβρίου 2019 στο Ελεύθερο Αυτοδιαχειριζόμενο Θέατρο Εμπρός από το Ινστιτούτο Πειραματικών Τεχνών με την υποστήριξη του Κενού Δικτύου και της ιστοσελίδας Moving Poems. Το φεστιβάλ ήταν μια συνάντηση 125 καλλιτεχνών, video artists, ποιητών, μουσικών από 26 χώρες με ένα μεγάλο πλήθος ανθρώπων που αγαπούν και υποστηρίζουν τη σύγχρονη ποίηση και την undergound κουλτούρα. Το φετινό φεστιβάλ ήταν αφιερωμένο στην διεθνή αλληλεγγύη στήριξης του Θεάτρου Εμπρός που μετά από 8 χρόνια ανοιχτής, δημόσιας λειτουργίας και έχοντας φιλοξενήσει εκατοντάδες εκδηλώσης Τέχνης και Πολιτισμού βρίσκεται στο στόχαστρο της κρατικής καταστολής.
The 8th International Poetry Video Festival was organized on December 13-14, 2019 at the Free Self-Organized Theater EMBROS by the Institute for Experimental Arts with the support of the Void Network and the Moving Poems website. The festival was a gathering of 125 artists, video artists, poets, musicians from 26 countries with a large crowd of people who love and support contemporary poetry and underground culture. This years festival was especially dedicated to the strong expression of international solidarity and support for Theater Embros that after 8 years and hundreds of public, free cultural events is targeted by the Greek state and face threats of eviction.
Θα θέλαμε να ευχαριστήσουμε ιδιαίτερα όλους τους καλλιτέχνες από τον Καναδά, την Αγγλία, το Ιράν, την Αυστραλία, την Ιρλανδία και την Τουρκία που ταξίδεψαν με δικά τους έξοδα για να στηρίξουν το Ελεύθερο Θέατρο ΕΜΠΡΟΣ και να συμμετάσχουν στην LIVE Performance Zone του φεστιβάλ. Ευχαριστούμε επίσης όλους τους καλλιτέχνες από τον Ελλαδικό χώρο που σε μια τόσο δύσκολη οικονομική συγκυρία συνεχίζουν να δημιουργούν και να αντιστέκονται με την δύναμη της Τέχνης.
We would like to particularly thank all the artists from Canada, England, Iran, Australia, Ireland and Turkey who traveled at their own expense to participate in the festival's LIVE Performance Zone. We also thank all the artists from Greece who in such a difficult economic conditions continue to create and resist with the power of Art.
VIDEO POEMS 2019 SPECIAL HONORS
Ας δούμε ποια βιντεοποιήματα ξεχώρισαν αυτή τη χρονιά και ποιοι ποιητές παρουσίασαν ποιήματά τους. Κάθε ένας από τους ποιητές ερμήνευσε μέσα από βαθιά προσωπικά βιώματα τα κοινωνικά προβλήματα της εποχής μας προσφέροντας μας νέους τρόπους να νιώθουμε και να σκεφτόμαστε. Οι συμπράξεις ποιητών, μουσικών και καλλιτεχνών του video art, με την χρήση πειραματικών ήχων, εικόνων και ατμοσφαιρικών φωνών μας πρόσφεραν μια υπέροχη δημόσια εμπειρία δημιουργικότητας και συνεργασίας.
Let's see which videos stood out this year and which poets presented their poems. Each one of the poets has interpreted through the deep personal experiences the social problems of our time, offering us new ways to feel and think. The collaborations of poets, musicians and artists of video art, with the use of experimental sounds, images and atmospheric voices offered us a wonderful public experience of creativity and collaboration.
Floodtide by Ian Gibbins – Australia
The performance Floodtide by Ian Gibbins is an amazing political statement by a poet. Congratulations to Ian Gibbins.
floodtide envisions a city after climate change has produced major rises in sea-level. What would it look like? How would the citizens cope with the new circumstances? What would happen next?
The composition process making the video was very complex. Nearly every scene has been composited from multiple sources, requiring more than 500 individual sequences from original footage filmed around South Australia, Victoria and Queensland, Australia. Each scene required matching of lighting intensity, colour and direction, as well as wind direction (in clouds, water, trees, etc), atmospheric haze, perspective, scale and more. Thus, in most scenes containing water, footage of the sea has been added to the landscape or cityscape. Similarly, nearly every sky and cloud bank has been composited from mixed sources. Almost none of the building skylines is from a single location.
These scenes might be imaginary, but the reality may not be far off…
Shiver by Mark Niehus – Australia
Shiver is a Poetry Film presented from the perspective of a woman reflecting on her triumph over childhood domestic violence.
Based on a true story, this honest and powerful poem is brought to life using video, animation and an electronic soundtrack to create a dark but hopeful dream like image of beauty that is segmented but still whole.
The viewer is taken on a journey that reveals an ever increasing strength of spirit to turn the tables on her abuser, "I am not cold and I shiver not for you, I tremble for I am the thunder that troubles you".
Poet and Artist Mark Niehus combines his poetry with digital art, video and music to create outcomes that capture and expand the mood, rhythms and meaning of his writing. Always seeking to discover new ways to apply his experimental ethos to engage audiences and push the boundaries of his art, Mark's work illuminates and transforms urban environments and internal spaces into captivating visual canvases and poetic soundscapes.
After spending years abroad, travelling, studying creative writing and working as a new media designer in London, Mark returned to Australia to publish his first book of poems in 2008 and to focus his artistic practice to create high quality artworks integrated with his writing. Over the last 10 years Mark has conceived and delivered an array of poetry films, projection art, street art, illustrations, installations and composed spontaneous poems for the public on his typewriter for Local Government, Arts organisations, festivals and numerous solo exhibitions.
The 8th International Video Poetry Festival presented Poetry + Video Program curated by the Australian video artist Marie Craven.
Audiovisual Performance: THE LOVE OF THE SUN directed by Marie Craven – Australia
Claudia Larose-Bell rode five poems from Matt Hetherington's poetry collection. Claudia Larose-Bell has an amazing deep voice and she creates a magnetic field with her atmospheric reading.
Based around five poems from Matt Hetherington's poetry collection, The Love of the Sun (Recent Work Press 2018), this live video-poetry-music-performance features Claudia Larose-Bell, a professionally-trained actor and former lead player with the Adelaide Theatre Company in Australia, with Matt's vocal performances forming part of the music soundtrack, composed by electronic musician, Steve Kelly, from the UK. His tracks also feature in a number of Marie Craven's poetry films over the past five years.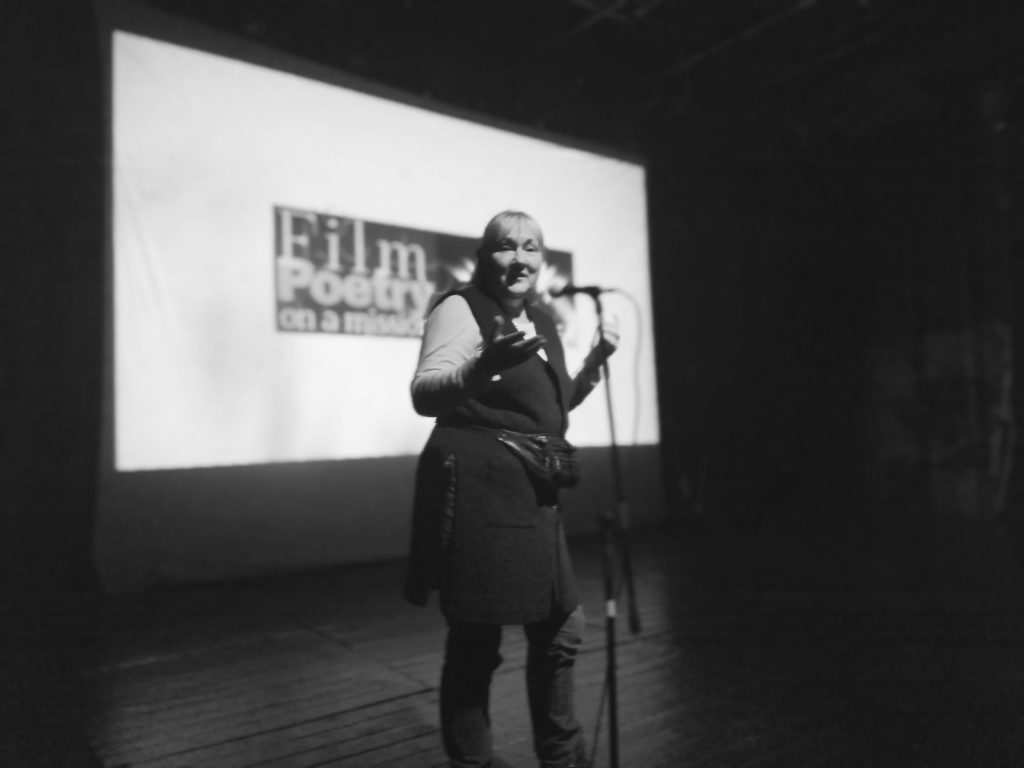 Wild Whispers Poetry Film Project by Chaucer Cameron and Helen Dewbery – UK
Chaucer Cameron and Helen Dewbery made the first film in the Wild Whispers project. The project explores the concept of adaptation and collaboration through poetry film, by sending a poetry film across the world, which was then re-created into a new poetry film and passed on. The films, in different languages, were all 'whispered' from the previous one. The aim was to trace how poetry film crosses language and cultures.
The project travelled from the U.K. to India, Australia, Taiwan, France, South Africa, Belgium, Sweden and the U.S.A., creating poetry films in English, Malaylam, Chinese, French, Affrikaans, Belgium, American Sign Language, Navajo, Spanish, and Welsh.
DATA by Andrés Pardo – México
The video poem DATA based on Funes el Memorioso a Jorge Luis Borges short tale.
Andres Pardo Piccone, Montevideo 1977, is a film editor, documentary filmmaker and film lab enthusiast. He releases in 2012 his debut documentary feature Looking for Larisa. His documentary work focuses on objects or situations that trigger stories of collective memory and its relationship to the creation of identity and community. He is fond of small film formats, black and white and soviet cameras.
Ana Pantic by Serbia
Ana Pantic is a poet from Serbia. She really loves the contemporary poetry scene and she presented some of her poems. She is a passionate poet and a strong performer.
Lucy English by UK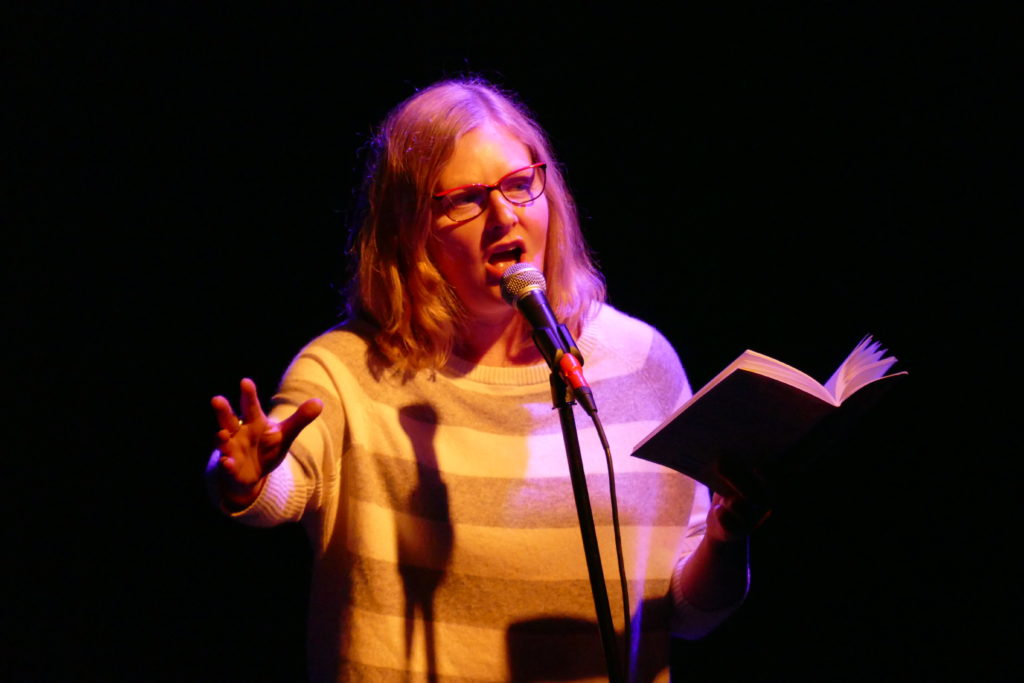 Lucy English has one of the warmest and recognisable voices in the video poetry scene all over the world. She is an incredible poet performer.
Lucy English was born in Sri Lanka and grew up in London. She studied English and American Literature at the University of East Anglia, and has an MA in Creative Writing from Bath Spa University.
She has three novels published by Fourth Estate: Selfish People (1998), set in contemporary Bristol; Children of Light (1999); and Our Dancing Days (2000), set in a Suffolk commune in the 1970s.
She is best known as a performance poet, first winning the Bristol Poetry Slam in 1996, and going on to tour worldwide, performing her poetry at many international festivals. Her first poetry collection Prayer to Imperfection was published by Burning Eye books in March 2014.
She co-ordinated the International Conference in the writing and practice of performance poetry at Bath Spa University and since then run the first performance poetry module at a UK university. In 2006 she was artistic director of Apples and Snakes Poetry Tour, Exposed. In 2007, she was a finalist in the first BBC Radio 4 Poetry Slam.
She has toured Sri Lanka, India, Thailand and Taiwan with the British Council running workshops and performances. She has also run workshops for the Arvon Foundation
In 2010-11 she toured the UK with the acclaimed Arts Council sponsored multi-media poetry show Flash and in 2014-5 toured with Count Me In.
She is one of the organisers of 'MIX', the conferences in digital writing.
She is co-creator of the poetry film organisation Liberated Words, which curates and screens poetry films.
She is currently studying for a PhD in digital writing creating a digital poetry film project, 'The Book of Hours'
http://thebookofhours.org/
Jane Glennie by UK
Jane Glennie has a unique sentimental style of reading. She emits the classical poet's emotion that you have to focus and travel with the lyrics of her poems.
Jane Glennie is an artist, filmmaker and typographic designer. ​
Her poetry films have screened at festivals across the world. They have received distinctions and awards at Oxford Brookes Poetry Film Competition (UK), Weimar Poetry Film Competition (Germany), Rabbit Heart Poetry Film Festival (USA), and Poole Poetry Film Competition (UK). She has films in the Book of Hours project (UK), and the Visible Poetry Project (USA).
She was commissioned (with Robert Good) to create the 'Word Bank of Lost Dialects' exhibition for The Word National Centre for the Written Word in South Shields. She is founder of Peculiarity Press and publisher of 'A New Dictionary of Art'. Previous projects include an installation at South Hill Park Arts Centre with over 2,000 recorded visitor interactions, the Arts Council England funded event Engage with Art, an archive-inspired project for International Women's Day and a London 2012 Inspire Mark project with Slough Museum.
Sahar Ajdamsani by Iran
It was a special moment at the festival when Sahar Ajdamsani sung three very popular songs in Iranian.
Sahar Ajdamsani is an Iranian singer, poet, lyricist, photographer & writer. She is recipient of WILD sound award, a New York based poetry festival, for her poem 'Censorship' that focuses on Women rights in Iran.
PERFORMANCE: I-DenSity –by Vasso Georgiadou
Vasso Georgiadou described the sentimental stage of a person who can recognize the self in different social environments. She has a strong mood to share her experiences via art – via poetry and video art. We really would like to thank her.
-What does 'home' mean?
-How much do the roots of our own history affect us in the course of our journey towards personal development?
-Who are we in the end, when everything else around us changes?
-How many changes can a person endure, until they lose their identity completely… or discover it anew?
-Who do we become in 'the new', 'the foreign'?
-Can we fit into an old self in the end?
-What is the cost of loneliness?
These questions, amongst others, constitute for the performer Vasso Georgiadou the starting point of research around the concept of identity and how this is evolved based on the changes that a person experiences.
I-DenSity is a video-performance piece, aiming to raise and explore such questions, among others, as well as invite other individuals to further this dialogue in future stages and platforms through joined collaborations.
PERFORMANCE:
A POEM WITHOUT HIS MASTER
by Margot Erratic Medusa + lyriko phosphoro
Lyrico Phosphoro created a vibrated mystical atmosphere where Margot Erratic Medusa opened a dialogue with the abyss of our age using her voice.
Mythological Monsters a live poetry performance with Sissy Doutsiou and Nikos Touliatos
The well-known musician Nikos Touliatos together with the contemporary dancer Valentine Giannopoulou created a mythological forest where Sissy Doutsiou was reading her poems as an ancient high priestess.
Tasos Sagris & WhoDoes
Tasos Sagris & Whodoes is a spoken word multimedia band. A wonderful duo that steps on post-rock, dark wave, cinematographic electronica, shoegaze and spoken word as two contemporary romantics who invite you to investigate the deepest areas of your heart and human soul.
Lokal Anestezi feat. Lara Yilancioglu, Diana Petrushka, Nedim Ulusoy (Turkey & Ukraine)
Local Anestezi is an experimental group of visual artists, musicians and performers. They emit a danger signal with their synthesis. They create a magnetic pole with their synchronized frequencies.
We would like to thank all the poets for their performances and their dedication to poetry.
Open Free SEMINAR / WORKSHOP
The international seminar by artists from Australia and UK featuring Marie Craven- Lucy English- Ian Gibbins- Helen Dewbery- Jane Glennie was very successful. Many young artists from different backgrounds gathered at the theatre Empros and exchange ideas about video poetry in the contemporary art movement. More than anything else the seminar as also the festival itself prove that poetry, video art and music when collaborate and co-exist in art empower each other and mutually offer visibility.
Μοιράσου